Saturday 14 September 2019
Scroll down for storyteller profiles, description of performances and workshops
Mongolian Yurt
Bell Tent
Hexagonal
Gazebo
11:15

Welcome Tales
Short stories from our storytellers
45 minute performance suitable for all ages
Front of House for the Curious House of Stories pop up festival

Books and book signing Society for Storytelling membership, events, traning and clubs across the UK

Following, booking and donating to Curios House of Stories

Professional photographers here to provide you with wonderful photos to take home with you
12:15
Carl Merry
Tales of the Tylwyth Teg
45 minute performance for all ages
Cath Edwards
Tell your story!
Public Speaking and Storytelling for beginners
90 minute workshop for adults 14+
13:15
Roisin Murray
Tales from the Saxon Shoreway
45 minute performance for all ages
See above
14:15
Sef Townsend & James Little
Join in and Enjoy Tales
45 minute performance for all ages
Martin Manasse
There was a King
45 minute performance for all ages
15:15
Sarah Rundle
Disreputable Tales
45 minute performance for adults 14+
Sarah Lloyd-Winder
Lady Sarah's Salon de The
45 minute performance for adults
16:15
Dave Tonge
Tavern Yard Tales
45 minute performance for all ages
Alastair K Daniel
'That was the story and how WE told it'
Developing audience participation
90 minute workshop for adults 14+
17:15
Red Phoenix
Buckinghamshire Folk Tales
45 minute performance for all ages
Sunday 15 September 2019
Time

Mongolian Yurt

Time
Bell Tent
Hexagonal
Gazebo
11:15
Carl Merry
Heroes, Hounds and the White Hind
45 minute performance suitable for all ages
11:15
Martin Manasse
Forest Stories
30 minute performance suitable for all
Front of House for the Curious House of Stories

Books and Book signing Society for Storytelling membership, events, training and clubs across the UK

Following, booking and donating to Curious House of Stories

Professional photographers here to provide you with wonderful photos to take home with you
12:15
Baden Prince
A Fest of Unexpected Delights
45 minute performance suitable for all ages

12:00
Roisin Murray
What happens after Happy Ever After
30 minute performance suitable for all
13:15
Cath Edwards
Tales from Beyond the Grave
45 minute performance suitable for adults and families
12:45
Dave Tonge
Tales from the Long hall
30 minute performance suitable for all
14:15
Sarah Lloyd-Winder
Dream Stories from Australia
45 minute performance suitable for all
13:15
Amy Sutton
A Pocket full of Stories
30 minute performance suitable for all ages
15:15
Alastair K Daniel
Invicta - Tales from the Garden of England
45 minute performance suitable for all
13:45 - 17:00
Club Mix
Hosted by Red Phoenix
Range of short stories from storytelling clubs and up and comers
16:15
Sef Townsend and James Little
A bird in the bush or a man up a tree
45 minute performance suitable for all
17:17
Farewell Tales
Short stories from our storytellers
45 minute performance suitable for all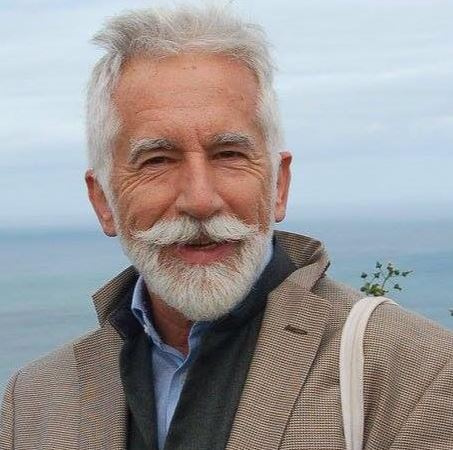 Sef Townsend
Sef has been sharing stories for more than twenty five years. Often working with refugees, the exiled and those in asylum detention, he tells in churches, mosques, meeting houses and synagogues, and has been involved in peace & reconciliation projects internationally. Recent work has taken him from shantytown schools in South Africa to the British Museum; from the Korean Centre for Traditional Performing Arts in Seoul to a remote village and refugee camp in the West Bank. In the last couple of years he has shared stories, given workshops and conducted his own research in Belgium, China, Italy, Argentina, and Chile.
Performance: Saturday 2:15 to 3pm
45 minutes suitable for adults and families
Location: Mongolian Yurt
Title: Join in and Enjoy Tales
Description:
In this family session Sef and will be telling some rip-roaring tales gathered from his many travels around the world. Joined by the delightful and new young storyteller, James Little, they may tell a
story from Ireland or Iran, China or Chile, Somerset or Syria, but, whatever the story and wherever they're from, you're guaranteed to feel like joining in whether you're seven or seventy.
Come along, let yourself go and have some fun.
Performance: Saturday
45 minutes suitable for adults and families
Location: Mongolian Yurt
Title: A Bird in a Bush or a Man up a Tree
Description:
Another fun set of tales from Europe, Asia and Africa with the theme of the natural world and its birds and its trees. Although geared to a slightly older family audience, no one, whatever age will be left out.
Once more Sef will be joined in the telling by the captivating young storyteller, James Little. Together they will take us on a journey of wisdom and foolishness with a few laughs along the way.
Again you may find yourself singing along or shouting an idea or two.

Dave Tonge
Dave is a jobbing teller of tales, an itinerant journeyman who performs at museums, heritage sites and schools, from Lindisfarne Holy Island in the north to Arundel Castle in the south. He works regularly for English Heritage and national museums like the Ashmolean and has written two books, 'Tudor Tales' and 'Norfolk Folk Tales for Children.' He specialises in costumed historical storytelling of period rich and often irreverent tales shared by the poorer folk long ago. But of late he's ditched his costume in favour of normal clothes and a fine trilby hat and can be heard at storytelling events including Settle, Taffy Thomas's Tales in Trust and Festival at the Edge. That said, many of his performances still have an historical flavour with sets like Tavern Yard Tales and Dame Fortunes Wheel.
Performance Saturday at 16:16 to 5pm
45 minutes suitable for all ages
Location: Mongolian Yurt
Title: Tavern Yard Tales

Description:
A telling of tall tales, lusty lies and foul fabrications in a manner most uncommon for these times, but once enjoyed by all goodwives and honest jacks with no guarantees of satisfaction hereby given.
Performance: Sunday 12:45 to 1pm
30 minutes suitable for all ages
Location: Bell Tent
Title: Tales from a Saxon long hall
Description:
Imagine that you are seated in a Saxon long hall. And so gather closer to hear tell of the mighty warrior, Beowulf. the Blind Bowmen who revenged himself upon a vicious thegn and of the legendary Hero, Hereward the Wake who stood against the first Norman king of this realm.

Sarah Rundle
On a wet Manchester evening, Sarah Rundle escaped into a warm performance café, and discovered Storytelling. She's been nattering ever since – tales from Britain, China, the Middle East, Italy, and the Silk Road.
She has devised works for the British Council, Wellcome Foundation, Geffrye Museum, and the National Trust, and performed at Stockholm's Fabula Story Café, the Nivesh Festival, Delhi, Kolkata Book Fair, and Festival at the Edge.
Her work has been described by Ben Haggarty as "truly magical….. it sparkles with a particularly glorious English humour."
Performance: Saturday at 3.15 - 4pm
45 minute performance for adults and children 14+
Location: Mongolian Yurt
Title: Disreputable Tales
Description:
Once Upon a Time, when pigs were swine and dogs ate lime and monkeys chewed tobacco, when the streets were paved with plum puddings, the houses thatched with pancakes, and roasted pigs ran up and down the high road with knives and forks in their backs crying "Come And Eat Me!" –then it was that The Collector propped his penny-farthing against the cottage wall, and, having brushed the imaginary dirt from a chair with his hanky, sat and transcribed folk-tales from the lips of the agèd peasantry. But many of the Tales were salty, unfit for children's ears and potentially corrupting for servants to read. So The Collector published two editions of the stories: one, unexpurgated, in a short print run, for Gentlemen like himself, who would have the self-control to read them and not be defiled.
And the other edition, in a print run of tens of thousands, contained a few, carefully selected, anodyne tales, where the heroines were always beautiful and passive, and the heroes were strong and handsome and good. And which would set a good example for the children and the servants.
And so it was, my darlings, that we were fed on Pap: Snow White and Cinderella, and taught to wait for a fairy Godmother and a handsome Prince. But the Salty Tales of Mischief and Disobedience are still in the archives, and I have made it my life's mission to root them out and blow the dust off and bring them back into the light. And here they are, today, in Hastings, in all their naughty glory.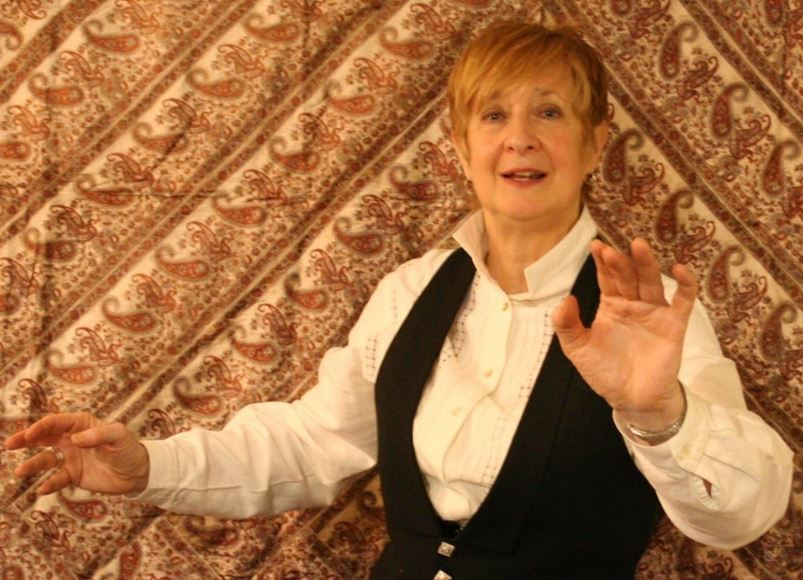 Cath Edwards
Cath Edwards is a warm and witty professional storyteller who delights audiences at festivals, in storytelling clubs and at many other venues across the country. Working mainly with traditional material, she creates a series of compelling images that will stay with you long after the story is ended.
She tells stories to all ages from adults to families and the very young. As well as mainstream storytelling, she has particular expertise with those with a range of special needs and with early years.
Cath is co-host of a storytelling club for adults in Lichfield, she is author of West Midlands Folk Tales and she is an experienced and successful workshop leader and trainer.
Her website is
www.storytellingforall.co.uk
Workshop: Saturday 12:00 to 1:30pm
90 minutes suitable for adults and children 14+
Location: Bell Tent
Title: Tell Your Story! Public Speaking and Storytelling for Beginners
Description:
Whether you have written something that you would like to read to a group or whether you would like to learn how to tell a story from memory, this is the workshop for you. In a friendly and supportive atmosphere, Cath will offer you tips, fun exercises and gentle encouragement to start this exciting journey!
Performance: Sunday 1:15 to 2pm
Suitable for adults and families
Location: Mongolian Yurt
Title: Tales from Beyond the Grave
Description:
A deliciously chilling collection of stories. Come and hear yarns of mystery, hauntings and horror: the lover who cared too much; the Scottish piper who made a terrible bargain; the family at the mercy of a sinister servant, and much more. Some of these tales are creepy, some are poignant, some are even funny – just don't walk home alone!

Carl Merry
Born in South Wales Carl spent most of his formative years either playing cricket or reading. Early encounters with the Greek myths sparked a lifelong love of these tales. As a teacher, Carl spent twenty six years attempting to instil a love of literature into teenagers.
In 1985 he discovered traditional storytelling was alive and part of a wider arts scene in Britain. Immediately Carl was hooked and attended storytelling performances and "teachers' days" in order to find out more. He began to use storytelling as an integral part of his teaching, writing a six week storytelling module for year 9 students and telling Chaucer's tales to "A" Level classes prior to teaching the text.
Since leaving teaching in 2000 Carl has worked as a storyteller, telling in theatres, country parks, schools, Medieval re-enactment events, festivals, storytelling clubs and community groups. He has run workshops for adults and children, helped organise The East Anglian Storytelling Festival, is a past director of The Society for Storytelling, and as a member of The Essex Storytellers has devised storytelling projects based around the history of Essex.

Performance: Saturday 12:15 to 1pm
45 minute performance suitable for all ages
Location: Mongolian Yurt
Title: Tales of the Tylwyth Teg
Description:
The Welsh fairy folk surround the inhabitants of God's own country. Invisibly and silently they interfere in the lives of rich and poor, the wise man and the fool. Frequently tricky and spiteful the Tylwyth Teg can also, on occasion, be helpful in their own way and on their own terms. These stories reveal some of their interactions with their human neighbours. Within this set you will meet a shapeshifting baby stealer; a foolish shepherd who misuses a fairy gift; a fairy servant banished and many others who steal from the shadows to make our lives more interesting.
Performance: Sunday 11:15 to 12:00
45 minute performance suitable for all ages
Location: Mongolian Yurt
Title: Heroes, Hounds and the White Hind
Description:
Fionn mac Cumhail the great hero of Ireland and leader of the mighty band of warriors The Fianna, when not defending the shores of Erin enjoys going hunting with his men. Often these hunts are the merely the start of a sequence of events which lead Fionn into strange adventures. The tales told here are full of action, magic, danger and there is even a tale of love lost. How did Fionn get his favourite hunting dogs Bran and Sceolan? What happens when these trained hunting dogs chase a white hind to a wooded dell? How does Finn defeat a giant? All is explained in these tales.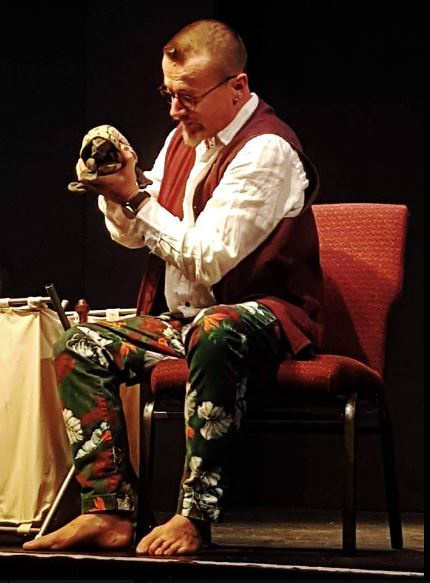 Alastair K Daniel
Alastair K Daniel is a regular teller with Surrey Storytellers and is known for his interactive approach to storytelling, blurring the lines between audience and teller. For over twelve years he toured schools in Belgium and the UK, introducing children and young people to both traditional and literary tales; he currently teaches and demonstrates storytelling to future teachers as part of his role in the School of Education at the University of Roehampton, where he also researches storytelling performance and the role of storytelling in education. His book, Storytelling Across the Primary Curriculum, was published in 2012 and he writes a regular blog about storytelling.
Performance: Saturday 4:15 to 6pm
90 minute workshop suitable for adults and young adults 14+
Location: Bell Tent
Title: 'That was the story and that was how WE told it' – A workshop in participatory storytelling
Description:
This practical workshop is intended for storytellers (of all levels of experience) who would like to explore ways in which audience members can become active contributors to a performance. Starting with a well-known fairy tale, we will look at places where gaps in the narrative can be exploited to encourage participation, whether in predicting or directing events, adding descriptive detail, acting out parts of the narrative or simply joining-in with repeated refrains or phrases.
*Please note the tortoise is on holiday with is family in Africa and will not be attend this workshop
Performance: Sunday 3:15 to 4pm
Location: Mongolian Yurt
Title: Invicta – Tales from the Garden of England
45 minute performance suitable for adults and families
Description:
In 'Invicta – Tales from the Garden of England', Alastair K Daniel returns to his home county of Kent, which yields its stories of battles avoided, jumping church towers, and ghostly hounds – all woven together with personal recollections of near-lethal encounters with bell ropes and a distinct absence of cod's kneecaps.
*Please note the tortoise is on holiday with is family in Africa and will not be performing this weekend.
Sarah Lloyd-Winder
Sarah trained as a dancer and then took dance to children and young people, through stories told through dance. Now this has changed around and Sarah just tells the stories, but sometimes the need to dance sneaks into the stories. The most wonderful thing about Storytelling is having that magical bag of stories that are always growing and changing. There are stories for children and stories for adults, there are ghost stories, there are startling stories where the end is a surprise and there are stories that explain the world. The storyteller is a Teller but also a collector, and as a collector also a listener.

Performance: Saturday 3:15 to 4pm

45 minutes suitable for families
Location: Bell Tent
Title: Lady Sarah's Salon de Thé
Description:
Where the storyteller drinks the finest tea whilst regaling the audience with tales
of adventure, bears, and dragons. Because as the storyteller talks one word leads to another and if you are not careful you find a story has been made. There is something so essential and comforting about sitting down and being told a story. Storytelling is as old as the human race. It is the library, the store cupboard, of our oldest memories, knowledge understanding and explanation, come and join the adventure.
Performance: Sunday 2:15 to 3pm
45 minutes suitable for families
Location: Mongolian Yurt
Title: Dreaming Stories from Australia
Description:
Welcome to the Dreaming Stories when Yhi first brought light to the sleeping land. Where the Frilled Lizards cooked up a storm, the Ice Maidens hunted and the frog learnt to sing. The Dreamtime is the Aboriginal Australian understanding of the world, of it's creation, and it's great stories.
Martin Manasse
I was 56 years old when I came across oral storytelling and my life was transformed. For as long as I could remember I had "told stories" through music, that is to say, playing the oboe, my main instrument, or piano. I found within the music a narrative, a sort of wordless story that expressed for me what the music was about and, if I was successful, allowed an audience to share my love for the music and the joy I experienced from playing it. Moving to spoken words took me into a new world of discovery and enchantment. Within months of this revelation I was telling in public, totally amazed at how quickly I seemed to find repertoire and inspiration. I am now in my twenty fourth year as a professional oral teller and my greatest joy is that I am still learning, still trying new ventures, still developing. I tell with undiminished enthusiasm and love to tell to any audience that would like to hear me and I invite them to take whatever nourishment they can find from my stories.
Performance: Saturday 14.15 – 15.00
45 minutes suitable for adults, families and children
Location: Bell Tent
Title: There was a King
Description:
A selection of stories all centred around a king of one sort or another. Why does the princess not speak? How can a simple grass cutter bring peace to a region? How to test for integrity in a potential new king?
Performance: Sunday 11.15 – 11.45
30 minutes suitable for adults, families and children
Location: Bell Tent

Titles: Forest Voices
Description:
"It is, perhaps, not entering the forest that is difficult but finding the way to come out. Who controls the path?"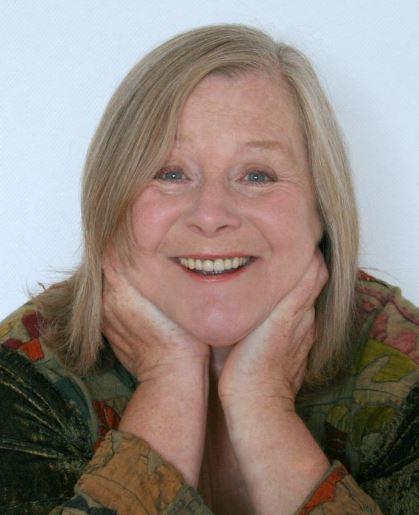 Roisin Murray
Has been telling stories for over 20 years in diverse places – from the East Midlands to the Middle East. Having spent many years living and working all around the UK she is now based on the Kent coast from where she tells both traditional and self-authored tales in community, heritage and environmental settings. A keen rambler, she often combines storytelling and walking and she is currently completing The Saxon Shoreway long distance footpath, collecting stories and legends along the way.

Performance: Saturday 1:15 to 2pm

45 minutes suitable for adults, families and young children
Location: Mongolian Yurt
Title: Tales From the Saxon Shoreway
Description:
Walking the coast path around Kent and Sussex is to tread on the very history of this country. Hear about the people, deeds and disasters that have made our history – and the ones she is meeting on the way.

Performance: Sunday 12 to 12:30pm
30 minutes suitable for adults and families (not suitable for young children)
Location: Bell Tent
Title: What Happens After Happy Ever After?
Description:
Does love really conquer all? These tales will tell you what really happens after Happy Ever After.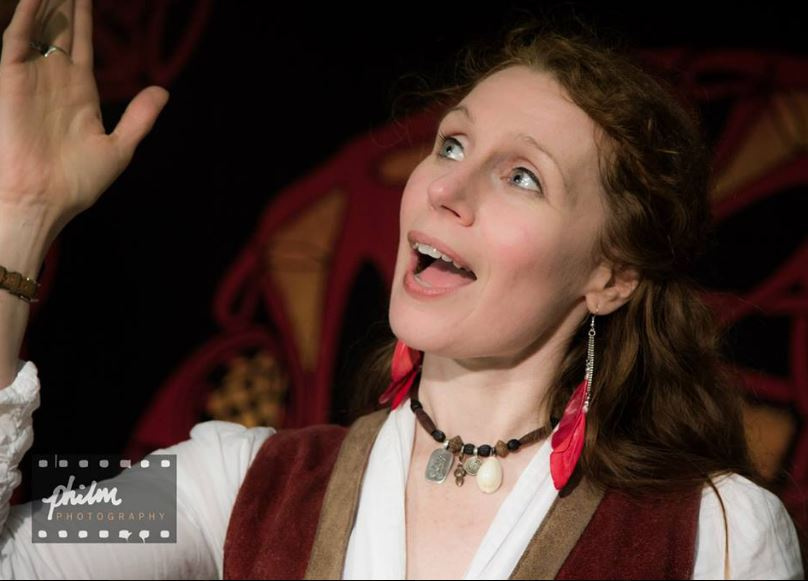 Red Phoenix
Red Phoenix (Terrie Howey) is a Storyteller and PhD researcher in applied storytelling and heritage at Loughborough University.
She has told stories her whole life but only started to get paid as a storyteller in 2004. In 2007 she founded Red Phoenix Storytelling and Productions which promotes oral storytelling and provides storytelling performances, workshops, performance skills coaching, and freelance dramaturgical services suitable for events and educational engagements. Her passion for supporting new and young Tellers took her to America and Canada in 2012 on a Winston Churchill Memorial Fellowship exploring the methods of support and mentoring structures in place for new and young Storytellers. Her work includes schools, museums, community arts, headlining the Ottawa Storytelling Festival 2013, Milton Keynes International Festival Fringe 2016, Open University, BBC Radio.
Performance: Saturday 17:15 to 6pm
45 minutes suitable for all ages
Location: Mongolian Yurt
Title: Buckinghamshire Folk Tales
Description:
Buckinghamshire is an ancient county with flowing rivers, Iron Age trackways, Roman roads, and the Chiltern Hills cutting their path across it. Where its woods once hid outlaws and highwaymen and its proximity to London made it popular with royalty, now busy motorways and new towns allow new residents to settle and make the stories of the future. Even the new town of Milton Keynes has many an old folk tale of witches, devils and hanged men, while the rest of the county can boast of vampires, dragons, and a centaur. Buckinghamshire will be known all the better as these tales will guide you through the county's leafy glades and around the roundabouts to meet Fey, foe, helpless and heroes. Stories from Red Phoenix's new book 'Buckinghamshire Folk Tales' being launched on 21 September.
Hosting: Sunday 1:45 to 5pm

Multiple tellers telling short stories, suitable for all ages
Location: Bell Tent
Title: Club Mix
Description:
There are many storytelling clubs across the UK and this is your opportunity to meet members and tellers from Surrey, Worthing, Brighton and Hove storytelling clubs. Each club is as unique as the organisers and members that attend them, some offer training and performance opportunities, some hold regular intimate story rounds in their own home, while others are a collective of tellers.
Why not come along and find out more about clubs in your area from the people that run and enjoy them. You may even get an opportunity to tell.

Amy Sutton
Amy Sutton started telling with the Brighton Storytellers.
She has since told nationally and internationally, and in 2019 she started the Worthing Storytellers club along with Joshua Crisp.
Her favourite story is the Madness of Mis and she will tell it to you if you ask very nicely.



Performance: Sunday 1:15pm to 1:45pm

30 minute performance suitable for all ages
Location: Bell Tent
Title: Pocket full of Stories
Description:
Dragons and pixies, Celtic monsters and Greek heroes - you won't believe the things Amy has in her pockets! Join us for traditional tales as you have not seen them before in this free-form, found object storytelling set that is never quite the same twice!
Performance in Club Mix 1:45pm to 5pm

Location: Bell Tent
Amy will also be performing with her Worthing storytellers team as part of the Club Mix in the Bell Tent.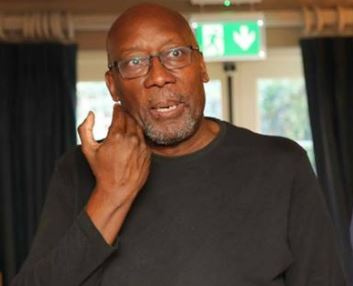 Baden Prince
Baden Prince (Jnr) is a dynamic storyteller, poet and performer who has been part of London's thriving Live Literature and Spoken Word scene for more nearly two decades. Between 2003 - 2010 he was organiser, promoter and host of "Speakeasy," one of the most popular and highly-regarded poetry and spoken word events in London.
His own performance credits are myriad and he was Writer-in-Residence with the London Borough of Havering's Library Service in 2003/4 and again in 2007/8. He has worked extensively in schools and community settings all over the country as a workshop facilitator for organisations such as Apples & Snakes, Hackney Learning Trust and Spread the Word, on projects as diverse as the London Schools Poetry Slam, Linklaters Reading and Writing Challenge and New London Orchestra's Music & Literacy Project.
Over the past few years Baden has developed an impressive reputation as a storyteller, largely due to a series of appearances at the East Anglian Storytelling Festival where he has delighted and enthralled audiences young, old and young at heart. He was a featured artist at Halsway Manor's "3 Golden Apples" Storytelling Festival in October 2018, by special invitation of organiser and host Taffy Thomas MBE. He has performed at events in Southend-on-Sea, Havering, Swindon and London as part of 2019 National Storytelling Week and most recently at The Glastonbury Arts and Music Festival in June.
Baden's repertoire incorporates "traditional" tales from the Caribbean and all over the world, as well as original, self-penned material. As a writer and performer Baden engages reader and audience with a style that is warm, self-assured and displays an entertaining blend of insight and humour.
Performance: Sunday 12:15 to 1pm
45 minute performance suitable of adults, families and children
Location: Mongolian Yurt
Title: A Feast of Unexpected Delights
Description: Prepare to meet a cast of characters including angels, demons, a tricksy spider and a talking mouse. A feast of unexpected delights for the ears and the soul.
James Little
Lively young storyteller supporting Sef Townsend. See Sef's profile for more information about their two performances.
For more information about St Leonards Show Ground venue

https://www.facebook.com/stleonardsshowground/

To book a room or dorm bed on site

https://www.stleonardsshowground.co.uk/book-a-room (password is case sensitive Gothic)
Combe Haven Touring and Camping Park is the most local camping site

https://www.haven.com/parks/sussex/combe-haven/
Rosa Campsite
There are many AirB&B, B&B, Hotels in the area