Our aims
To provide an affordable festival space to small groups to raise awareness of their art, club, sub-culture or business.
To offer community/team building activities through construction, story, songs and games
To provide public speaking workshops using storytelling techniques
To provide traditional and non-traditional storytelling performances to improve listening and audience participation skills
To provide modern covers and original music and song performances to entertain and encourage audience participation
How we began...
It was at the Surrey Convivial in 2017 that Duke Box Steampunk Gent met the Lovely Belinda Storyteller. It wasn't long before his steampunk world and her oral storytelling worlds were merged.

One day in 2018 while they were drifting slowly down a dreamily green river, the Steampunk Storyteller said,
"Wouldn't it be brilliant if we could create a pop up story and steampunk festival and travel around..." and Duke Box added,
"bringing communities together through stories, songs and games?"
The river gurgled, "Yes please," and so their journey began.
A year and a day later the Curious House of Stories was born. During that year they performed in Devon, East Anglia, Kent, Surrey, Sussex and Wales. Each time adding new ideas that shaped their festival so that it would be full of wisdom, humour, game and song. Their desire to offer a safe environment for all in an inclusive and considerate way meant that even those with social anxiety soon joined in. They do this by offering opportunities for visitors to the Curious House of Stories to have time to acclimatise to the beautiful interior of the yurt before the rest of the audience arrive .
Fortunately both the oral performance storytellers and the steampunk community loved their idea so much that they joined in. The official launch of the Curious House of Stories took place on 14 September 2019.
Everyone had such a great time that the
Fellowship of the Curious House Pop-up Festival was created.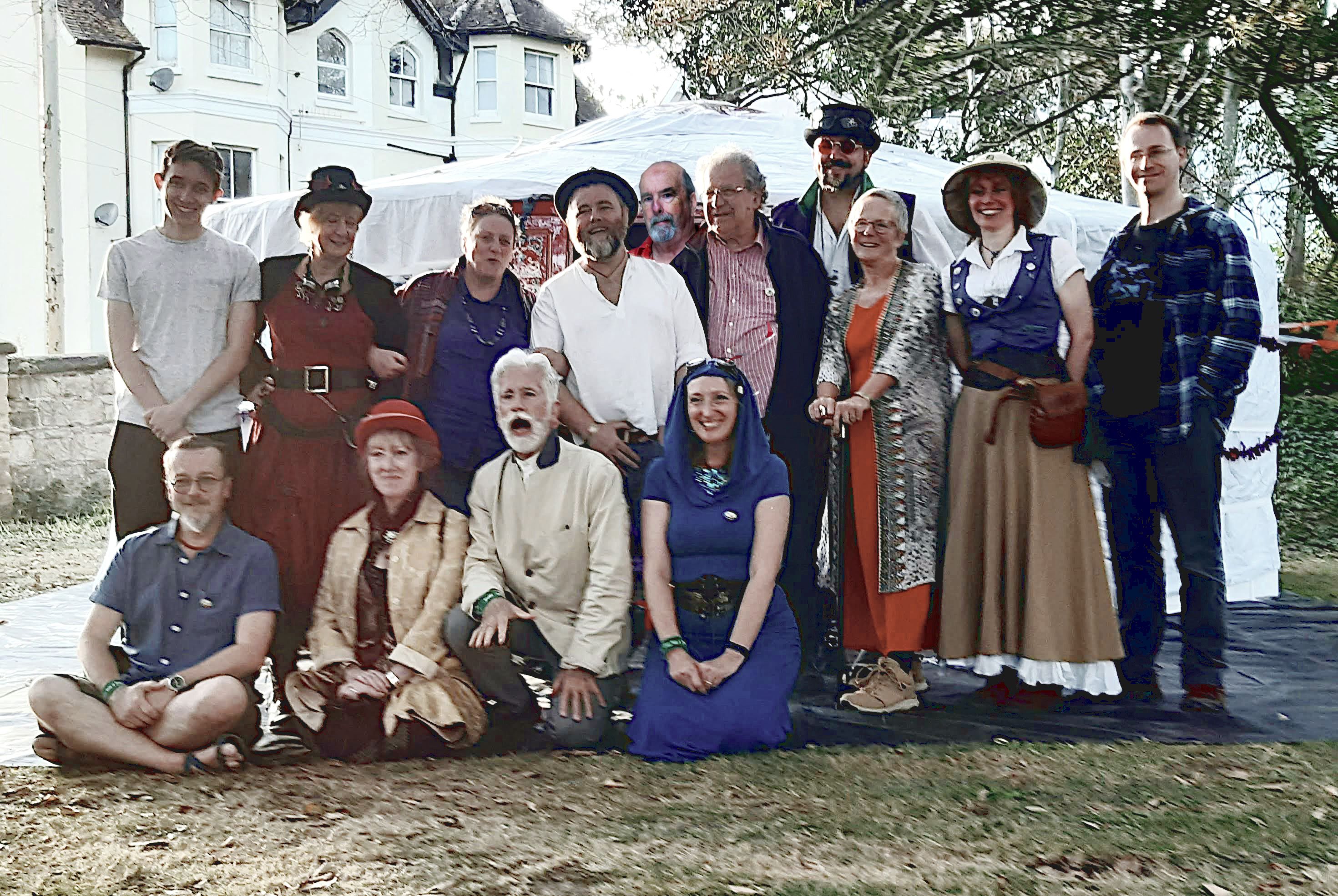 "Duke swept into Ilfracombe bringing with him a tidal wave of energy and enthusiasm and an evening of steampunk games, music and laughter.
He was partnered by the entertaining and delightful Steampunk Storyteller who charmed us with her tales of the sea.
What a lovely couple. I would thoroughly recommend."
Tracy Manning
"They were at our Victorian week in Ilfracombe hosting/comparing and performing events over a whole weekend and were funny, professional and worked very hard. The table games at The Time travellers ball were inspired as were the 'floor' games - particularly the one which involved the blindfolded reassembly and dressing of a manakin very funny. The story telling too was excellent and such lovely people too. Great props, music, staging and effects. They were a great asset and I have no hesitation in recommending them."
Peter Coates
"Great host brilliant compere kept us all entertained at Illfracombe Victorian and Steampunk festival. Fun and games intermingled with music and laughter and he can even sing (lovely flying v I'm jealous lol). Along side this we had the enchanting stories from The Steampunk Storyteller If you are looking for someone to pull your event together look no further everything you could wish for is found in Duke Box and his lovely partner The Steampunk Story Teller I highly recommend Duke"
Phil Hawkins