Belinda has a wide range of traditional, folk, historical, personal, modern, original and commissioned stories to her repertoire. She has been performing since 2009 to a wide range of audiences from 1 to 500 people. Her performances are described as quirky, passionate, intelligent, thought provoking and lively.
Belinda's a deep interest in stories began during childhood when she discovered reading fiction and fantasy mixed with creative writing were providing her with ways to cope with childhood trauma. During her degree she studied: English literature, child development through literature, primary teaching and children's literature. She has also studied oral storytelling, clinical hypnotherapy, NLP, personal coaching, relational counselling, mindfulness and creative writing. Collecting storytelling mentors and trainers and along the way.
Belinda has performed at a wide range of events in: theatre, libraries, museums, cafes, schools, residential homes for profoundly disabled adults, universities, Brownie pack, festivals, steampunk convivials, street busking, parties, weddings, in the woods, as well as by fires, shores and bedsides. She has an Enhanced DBS for Education.
Dear Pip... was commissioned by The Iris Murdoch Research Centre at Kingston University.
Kingston University's Archive Department had more than two hundred letters written by Iris to her life long friend Philippa Foot the philosopher. Belinda was commission to produce a one hour performance that illustrated Iris's life as an author and a philosopher, as well as the importance of her relationship with Philippa.

A successful launch took place in Kingston Museum and was also performed in Kingston University and The Rose Theatre.
"Superb storytelling. You really brought Iris alive, thank you."
For the Rose Theatre and Kingston University's joint Storytelling Festival Belinda performed 'Flawed' a one women show investigating the sexual relationships between men and women using medieval bawdy stories and the darkest Cinderella story you will ever hear.

Belinda often participates in story slams, competitions and word of mouth events where she performs personal and original stories.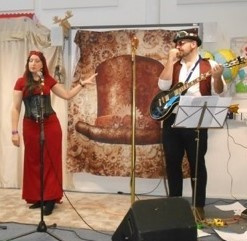 More recently Belinda and her husband Jack (Duke Box) are touring with their show, 'Gifts from the Sea'. A performance mixing ancient stories with modern song. 'Gifts from the Sea', is about a fisherman and his family living in an isolated cove. The young fisherman learns from his mother and father all the ways of fishing and living through the stories and songs shared on shore and waves. One night under the magic of the full moon the young fisherman wishes for love but soon discovers that secrets are storms and songs are snares. Will he find true love among the ever shifting waves of the deep and briny sea?